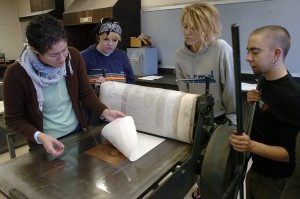 Print media offers a diverse and fertile ground to nurture contemporary approaches to creative inquiry.
The print media studio discipline cultivates both traditional approaches to lithography, intaglio, serigraphy, and relief and nontraditional approaches that can expand to digital imaging, video, and installations.
Varying theoretical models are explored that guide students' personal research in the medium. Visiting artists offer varying perspectives in print media, a field that regularly challenges notions of originality, authorship, dissemination, and systems of exchange.
This article comes from iup edit released