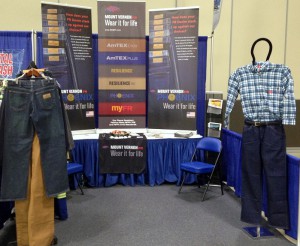 New developments in PPE
According to Mary-Lynn Langraf, senior international trade specialist for the US Department of Commerce/OTEXA, the market for PPE is expanding beyond military, first responders, and oil/gas/electrical workers to now include general industrial workwear and apparel for recreation and sports. Comfort is a major issue, driving demand for light weight layers and better styling.
Advancements in sustainable options
The necessity to produce product in a more sustainable way is driving innovation in all aspects of textile manufacturing, and there was a range of sustainable options presented at the show for industrial technical textiles as well as in the apparel segment.
Some 85% of the colourful nonwoven insulations and bedding materials at Carolina Nonwovens, a division of National Spinning, were created from recycled textile materials. Leigh Fibers, a 100-year-old textile recycler in South Carolina, utilises everything from denim shoddy and spinning waste to Kevlar. "Nonwovens is the biggest aspect of technical textiles in the US," confirmed Uwe Deligne, Leigh senior account executive.
Poole Fibers' EcoSure® BioBlast™, a biodegradable polyester fibre made from 100% recycled PET bottles, targeted the nonwoven wipes industry. The soft, durable fibres were shown to biodegrade twelve times faster in landfill conditions, over a year, compared with traditional petroleum-based fibres.
The controversy regarding durable water repellent (DWR) finishes containing perfluorinated chemicals (PFCs) is one of the biggest challenges for manufacturers of performance and protective apparel. While the chemical suppliers were mostly absent from the show, Massachusetts-based Bolger & O'Hearn took a stand to promote their F3 fluorine-free finish, said to outperform many C6 DWR chemistries.
This article comes from innovationintextiles edit released