Many companies reject print media advertising, believing the digital age has given way to more efficient forms of marketing. But comparisons between print media and electronic media have shown that print media provides many incredible advantages. Magazines, newspapers, leaflets, and catalogues are more effective at targeting customers and making a lasting impression. Here are some of the advantages of printed media over electronic media.
Advantages of Print Media vs. Electronic Media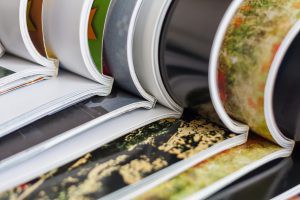 Can electronic media replace print media? If you ask brands like Ikea or Williams-Sonoma, the answer would be "no." These companies derive a huge part of their success from their catalogs and print media. Flashy magazines with vibrant photographs will always be popular among consumers and they're very effective at grabbing readers' attention. Additionally, print media is generally an easy and affordable medium to advertise with and effectively spreads awareness within a specific geographical area. You can target your demographic more easily with print media by doing research and delivering your catalogs right to your prospective customers' mailboxes. Print media allows for easy budgeting and expense management as well.
As for electronic media, although it has a much wider reach and allows for greater flexibility, its results still do not compare to the quality customer relationships you can gain from using a print media strategy. Electronic media does allow businesses and retailers to use pictures, animations, and even 3D imaging to market their products or services, but it comes at a cost. It is actually much more affordable to set up a print marketing campaign. And the profit you gain through targeting the consumers most likely to buy your products outweighs the investment.
Important Types of Print Media
There are three main important types of print media: newspapers and articles, magazines and catalogs, and books. Newspapers and articles are delivered in a frequent and regular manner, and they can be presented attractively to create interest in the reader. This form also provides accurate and authentic information about current events locally and worldwide, related to various human-interest topics like health or entertainment.
Magazines and catalogs go deeper into a particular topic. They can feature stories, interviews, research, or analysis to provide the reader with more details about a specific topic. Unlike newspapers, which provide information on several topics and categories, magazines focus all their content on something specific and provide in-depth research and information about it. Some topic examples include fashion, technology, gaming, interior design, and fitness.
Thirdly, print media can come in the form of books. These can be considered a form of cultural heritage, encompassing scientific reports, history, and literature. Whether it comes in the form of textbooks, adult literature, or storybooks, this form of print media is a great way to target people who still enjoy taking their time and going through an entire book about a topic. Biographies, history, and self-help are some of the categories of this type of print media.
This article comes from macromark edit released