Textile that is primarily used for its performance or functional properties and not for its appearance or aesthetics is known as technical textile. The industrial fabrics that are used for various industrial applications are also classified as technical textiles. As such, technical textiles are the high performance fabrics that are basically used for non-consumer applications. Some textile academicians also include finished products such as ropes or tarpaulins, and parts of other products, such as tyre cord for tyres or coverstock for diapers, in the definition of technical textile.
Scope of Technical Textile
An exceptional feature of technical textiles is the use of innumerable varieties of raw materials, processes, products and applications for their production. Some of the materials used for making technical textile are listed below.
Metals, like steel.
Minerals, like asbestos and glass.
Synthetic polymers, like PES, PA, PAN, PP etc.
Regenerated fibers like rayon fiber and acetate fiber.
Natural fibers like cotton fiber, jute fiber, wool fiber etc.
Not only a great variety of raw materials but a multitude of processes are also employed for manufacturing technical textiles that include basic processes like weaving and knitting and much advanced processes like stitch bonding, chemical, thermal bonding to needle punching and many more. All these processes result into various products like fibers, yarns, and threads that are further used for making the finished technical textile. Not only this, many processes also lead to the manufacture of end products like ropes, cords, bags, belts etc. The figure above goes to explain the complexity of the technical textile process chain.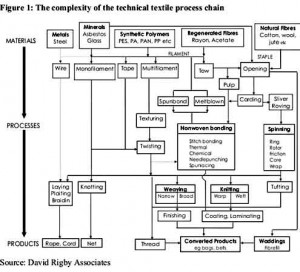 This article comes from TEonline edit released