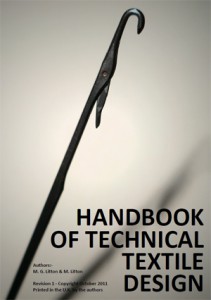 A new book entitled 'Handbook of Technical Textile Design' has been launched by authors Michael and Matthew Litton; two well known Ayrshire, Scotland, based technical textiles designer/ developers.
This book is aimed, firstly, at helping those textile companies who are already involved with technical textiles and would like a more structured approach to the design of new products and, secondly, to those textile companies who have toyed with the idea of entering the field and have wondered what the reality may be like.
Taking innovative products to market
The problems of taking innovative products to market for new entrants to the field are not extensively covered here but the authors offer helpful suggestions for this situation. The assumption is made that readers have a good working knowledge of textile operations.
"There are as many definitions of technical textiles as there are writers on the subject. For this book, we use the definition that a technical textile is one where 'the performance properties are of greater importance than the aesthetics'," says author Michael Litton.
For many years the authors have been designing textile solutions for a very wide range of industrial problems. They have a combined experience in excess of 40 years and have agreed to requests from many people to put on record their experiences of working in this field.
Successes are counted in dozens and include such items as the one-piece automotive airbag, various woven and knitted cardio-vascular accessories and tethers for the retrieval of space dèbris. These items are patented and therefore in the public domain whereas the majority of the authors' former customers would prefer that they do not publish names or details of solutions developed for them.
Summary
The book is divided into two sections. In the first section, (Chapters 1 to 4) the general principles for technical textile designs are discussed.
"We recommend that this section should be read before starting any new technical textile project. We cannot, obviously, guarantee that by reading this book you will be able to design great products but we hope that we can ensure that you will not waste time or money on multiple no-hopers. We aim to add realism to projects and to ensure that projects which are undertaken have a realistic chance of success for the technologies available at the time," Michael Litton says.
"Sampling is a major obstacle and we give several guidelines on how to minimise this hurdle."
Textile physics
"Finally in this section, we cover some essential textile physics. We have found over the years that very many technical textiles are copies of, or amendments to, other fabrics. It is often only luck that ensures that they perform! Our aim is that it will be possible to have confidence in the performance of a fabric even before it leaves the drawing board. The tables in chapter 4 provide starting points on the path to a successful development."
In the second section (chapters 5 to 11), the authors consider various textile types (e.g. tubes, flat cloth, and nets) and suitable fibres.
Yarns and fibres
"Chapter 5 discusses yarns and fibres in which we have covered all the common fibres plus a few more but not the truly exotic ones. For each type of fabric, we have listed the options and the relevant merits and demerits of the possible routes to manufacture," Michael Litton explains.
When compared with the total volume of technical textiles used, knitting is a minority player. In this book, however, it has a disproportionate amount of space because, according to the authors, the scope for new woven solutions for speciality items is more limited whereas the design potential of warp knitting is well beyond the imagination of most textile professionals.
"Since textiles have been around for thousands of years expertly practised by millions of people, many specialist innovations have been accomplished. Our comments will thus have to be general. We are aware that there are exceptions to our statements and we use the words "could", "would" and similar words with care," Michael Litton sums up.
This article comes from innovation-in-textiles edit released