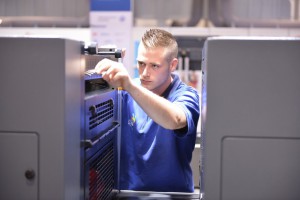 The Print Media Technician is involved with all aspects of the printing process from the initial planning and preparation, through the print run, checking for consistent quality to cleaning up after the print run is complete. The work is usually large scale production of printed materials for a range of clients. Specifically, Print Media Technology involves the production of printed material using an offset sheet-fed press and other equipment to create finished, printed products. This occupation is responsible for producing all printed material at a printing operation.
The Technician will usually work in printing businesses or publishers and will use complex specialist equipment. A detailed knowledge of the equipment and materials used is vital to produce high quality products that comply with the specification in a cost-effective and efficient manner.
The Print Media Technician requires an in-depth knowledge of handling, troubleshooting, and maintaining printing factors such as ink, paper, and equipment. Generally, production of the printed product will use a traditional ink-on-paper process, but increasingly technicians are using toner-on-paper technology for shorter runs and variable data.
Print Media Technicians also have to be able to mix custom ink colours and operate cutting equipment to produce a job to a customer's specifications. Quality control equipment like densitometers and photospectrometres are used to verify and adjust the print quality.
This article comes from worldskills edit released