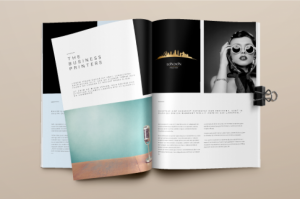 In a world dominated by the internet, it is easy to assume that print media is a thing of the past. However, that couldn't be further from the truth. Print media is needed more than ever to stand out in the digital world. Find out why here…
Tangibility
A piece of print is something physical and can stay in homes or offices for significant amounts of time. Items put onto the internet can vanish almost instantaneously. Print media that stays in the home has the potential to remind customers of a product again and again, increasing the likelihood of customer interaction.
Printed materials and media have a tactile element, and thus act as carriers of communication. Known as haptic communication, this is when someone holds material in their hands and physically interacts with it.
Many prefer print as they like the feel of paper which has the ability to trigger a number of senses such as smell thanks to the ink. Print media comes in many different forms, and can differ in texture. Some print can be rough, while others feel as soft as silk – creating a unique sensory experience, which can add to the effectiveness of print.
Writer of Brand Sense, Martin Lindstrom believes that when brands appeal to more than three senses, advertising effectiveness will increase by 70%.
"Paper is an information carrier par excellence and possesses an intimacy of interaction that can never be obtained in a medium that by definition imposes a microchip interface between the reader and the text." – Andrew Dillon in his seminal review of print and digital media differences.
Print is Personal
Something as simple as customising print media for a specific audience makes consumers feel like a business cares about them. Not only does this build up a relationship with potential customers, it can generate hype and excitement if they know they are likely to receive something made specifically for them in the future.
Branding
Print material is an excellent way to solidify brand identity, especially when items remain aesthetically consistent in fonts, colours and images that can establish brand recognition.
Branding doesn't have to be boring either. Coming up with fun and creative ways to make sure your brand sticks in the front of the audience's mind is fun for both consumers and companies alike. Personalising brochures, business cards and other printed materials can help customers choose one brand over another when they need a specific service or job doing.
Credibility
Using print media exudes a sense of legitimacy. The web can be an overwhelming place with pop ups and banner ads. The fear of viruses is enough to make anyone weary of clicking, whereas print media holds no immediate danger.
More Engaging
Print media material is a great way to engage with consumers. Visitors to websites spend as little as 15 seconds skimming a website. Studies such as Alshaali & Varshney, show that people read digital screen text 20-30% slower than printed paper.
The key to successful engagement is drawing the consumer in with attention-grabbing content, before advising them of a worthwhile offer or service. Print media can host a variety of content areas from news to education, inspiration, special offers and entertainment. These generate engagement between a brand and the reader.
In-Depth
Those who read print media materials process information on page differently to information found online. Print media offers fewer distractions, allowing readers to keep concentrating on the text for longer. This lack of distractions allows the consumer to fully get into the moment when they are engrossed in something. Known as deep reading, print media uses article topology, in which readers use an article's structure, headlines, subtitles and pictures to navigate through content. This allows them to return to certain parts and obtain better recall of information such as special offers.
Potential Wider Audience
Using print media and materials gives businesses the potential to reach more people than online avenues. With so many sites fighting to try and catch web surfers' Â attention, it is difficult to make sure that a page visitor stays interested for long enough.
Print materials can reach more people as they are easier to distribute. Print media is an easy medium to spread awareness or advertise to any particular geographical area. For example, a local newspaper is the best way to spread news about any local event.
Trusted
Some forms of print media have huge followings. Having become household names, they have become experts in their fields with many flocking to find out what the experts say every month. Using print media effectively can secure a business the reputation of being trusted, which in turn can boost customers and clients.
Print is Taken More Seriously
Consumers take print media seriously as it is something that is aimed directly at them. With the digital world just a click away, anyone can log on and share their thoughts, expertise or business with the whole world. However, print media takes time, is well thought out and costs money.
Print materials needn't be expensive, if you are looking to use print media to benefit your business, take a look at our exclusive range of free downloadable templates for business cards, leaflets, flyers and more.
Print media and materials are also brand specific and personal to a business. website domain value calculator Investing in branded items from The Business Printers, allows companies of any size to promote themselves through eye-catching, high quality printed materials. From business cards to posters and flyers – the sky is the limit.
This article comes from the business printers edit released